Automatic Flexible Duct Forming Machine, Aluminum Flex Ducter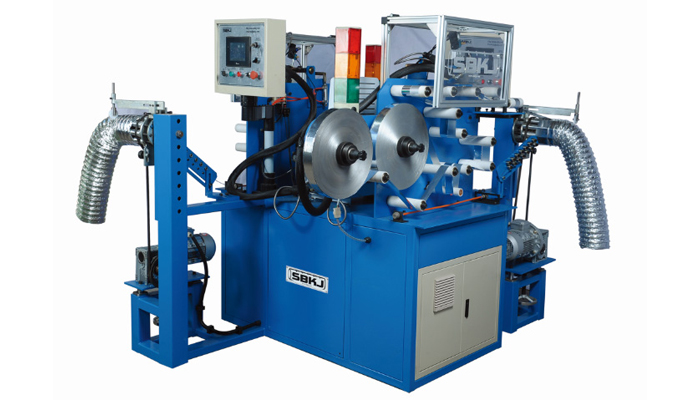 SBKJ developed this machine in house, and it is designed to produce flexible ducts using adhesive, aluminum foil, and a steel wire. Non-woven fabric and PVC can also be added during production.
Flexible ducts use steel wire as the supporting frame and are primarily installed in high rise buildings for use as a ventilation duct in central air conditioning systems, though they are also commonly used in air purifying systems and kitchen smoke vents. Flexible ducts are formed by stretching the aluminum fill, then pressing it together in a spiral pattern.
Advantages:
Solid adhesives replace traditional fluid adhesives, and a computer-controlled glue dispenser for a better glue temperature control, thus optimizing the adhesive's affect to save money and reduce waste.
Double station machine for simultaneous operation to increase production efficiency.
PLC automatic cutting, cutting length is fully programmable.
Parameter:
Diameter
φ80-φ600mm
Material thickness
0.02-0.08mm
strip width
φ80mm 35mm
φ100mm 30-35mm
φ125mm 30-35mm
φ300-600mm 35-40mm
feeding speed
65m/min
main power
7Kw
weight
680Kg
dimension
2000×1500×1800mm
Feature
Automatic cutting and automatic compression